Not at the moment but I've moved this to feature requests for us to consider for the future.
@Meredith We're adding this back, you can try it now see below. I've also fixed a bug where overlapping imprint bases didn't work right and made holes in the imprint base.
@Carol @littlemissvanilla you can't move the bars yet but you will be able to create both a horizontal and vertical.
You can try out the horizontal and vertical bars and the imprint base in the beta version available here.
Let me know what you think!
Another request - could you add a stencil option to the "What do you want to make?" selection? I can fiddle with the setting and get it to do what I want, but sometimes I have to change my drawing to make it work. I use the stencil for air brushing and to draw piping guide lines on my cookies.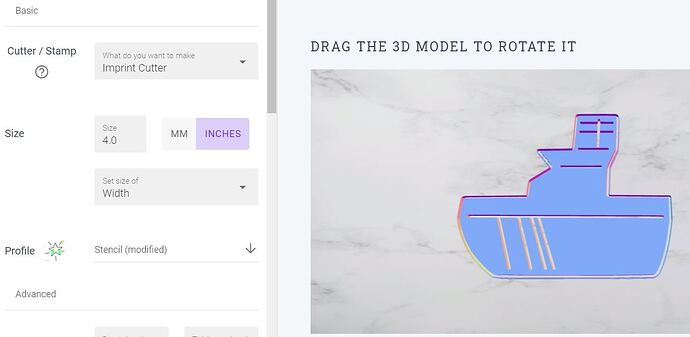 Thanks @CookiecadNathan, Having the two bars works great. And I have to say your App is amazing. I haven't had to use Fusion in weeks. I can do everything in CookieCad now.
@CookiecadNathan, Another request. Can you add an option to NOT flip the image (or have a checkbox that lets you flip it again). Sometimes I want to make two cutters, one facing in each direction. If I am making cookies I know I can just turn the dough over before baking, but if I am making gum paste/ fondant cutters the back side of the cut fondant doesn't look as good as the front side so turning it over isn't an option. Also when I am making Happy Birthday cake toppers the top of my 3D print looks better than then side attached to the plate (even with ironing turned on). So before I bring it into CookieCad I have to flip my image so when CookieCad flips it I get it pointing in the directions I want.
Just something else to add to your ToDo list. LOL.
This is genius! Can you post photos of the final product?
You should actually be able to use the settings for the cake topper to get rid of the outer blade. Specifically: Blade thickness: 0.01, Imprint depth: 0.
This is an airbrush stencil I made. There is a little bit of over spray but that was my fault and not the stencil.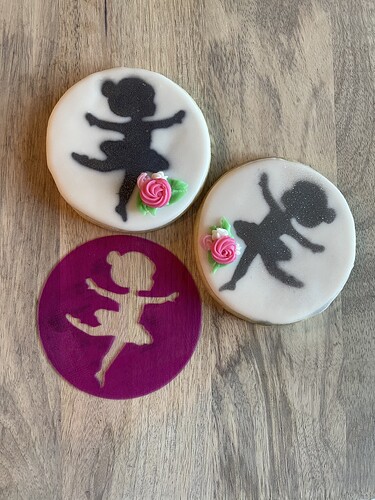 Be able to write on cutters, like inches…
If you are interested in taking the time to learn, this can be done in Tinkercad. I completely understand though wanting to do it all in one place. This would be a great addition.
Would love to see bar under embossing parts to be able to remove as it saves plastic first, time for print and its make possible to remove clay/dough from other side if its stuck.
Hi! I'm just seeing this! When I'm working on multiple files in a row, it would be easier to finish one and export it, and then be able to open another file from my library right in the App window, rather than switching to library and waiting for it to load, selecting my file, reopening the App, and then re-selecting the settings. I know you can add a new image, but I usually import a bunch of files into my library at once. I've also noticed that if I add a new image to replace the file I'm working on, it will save as the name of the original file, rather than the name of the new imported file. I hope that makes sense!
A "sweep" feature. This is one of the main reasons I still use Fusion 360 currently. You guys have such an amazing program with CookieCad. I think the only feature that I would love to see personally is the Sweep feature that allows tapering the edges so that its not such a hard handle or blunt blade.
Keep up the great work CookieCad!
Thank you for this! Love it!
Hi, thanks for adding the horizontal and vertical bars. I'd love to be able to have more than one bar e.g. behind text when there's two rows of text, it will save on filament and printing time. Thank you so much!
I'd love an option to add tapered edges to the cutters!
Can we have a feature to make more than one taper setting? Also, to make the walls thicker. I make Clay cutters and the walls are thin.
Thanks so much
You can make the walls thicker now. Just increase blade thickness or extra blade thickness.
Can we have a feature to make more than one taper setting? Also, to make the walls thicker. I make Clay cutters and the walls are thin.
Thanks so much
Hi,
I would like the cutter to have round Handle .
Thanks